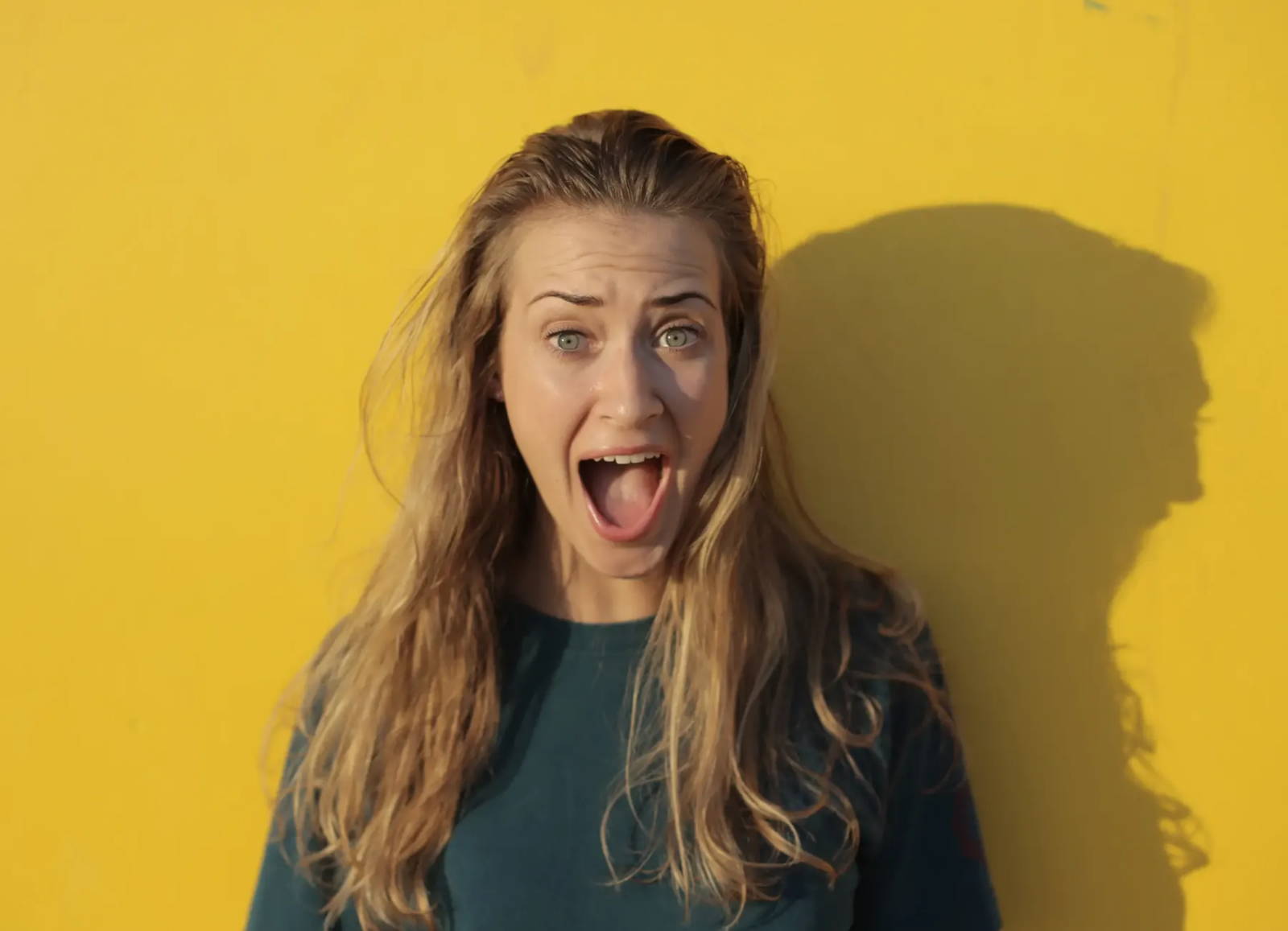 Ashwagandha: Nature's Best (but not so well-known) Remedy for Stress & Anxiety
Author Meg for Living Wonder Nutraceuticals / Category: Ashwagandha / Published: May 28, 2020
Are you stressed?
Is that even a legitimate question right now? Better yet, is anyone not stressed  or not experiencing tension or anxiety right how?  The right question to ask might be, how stressed are you right now? Where are we feeling that stress - is your body tense, do you have brain fog are you more irritable or emotional right now?
Do you have a plan to manage your stress? Not the things that cause your stress but to manage stress itself? There are several types of stress and while our bodies can handle short bursts of stress, what most of us are experiencing right how is a whole different thing. Chronic stress can wreak havoc on our entire body and the end result is that not only can you feel really lousy it is possible to become even less equipped to manage the events causing the stress in the first place. Welcome to the mind-body-stress cycle.
Stress and Your Body
When the body perceives stress (real or even imagined) an entire chain reaction is kicked off in the body: your brain sounds an alarm and releases stress hormones--primarily adrenaline and cortisol--that trigger your body's "fight-or-flight" response. Your heart beats faster, your breath quickens and your body literally gets ready to fight off the stress or to run. The key is that the body can generally handle brief episodes of stress because it happens and then it is over relatively quickly. Your body is often able to respond and restore equilibrium without you even having to think about it.  
However, when stressors are present for longer periods of time and you constantly feel under attack, that "fight-or-flight" reaction stays turned on. The long-term activation of the stress-response system and the overexposure to cortisol and other stress hormones taxes the body's ability to recover quickly and your body's cortisol levels can become unbalanced or chronically elevated. It is chronic stress and not the every day stress that causes you to feel worn out and often causes a host of unwanted health conditions.
Is Chronic Stress Impacting You?
Your body often provides helpful clues about how it is being impacted by stress. Chronic stress puts you at increased risk of many health problems so if you are experiencing any of the following it might be time to consider taking steps to control your stress:
Some of the symptoms are:
Anxiety

Depression

Digestive problems

Headaches

Sleep problems

Weight gain

Brain fog and memory loss

Reduced immunity

Inflammation

Acne, psoriasis, dermatitis & other skin problems

Hair loss

Reduced sex drive
What You Can Do to Combat Chronic Stress
The good news is that there is a new awareness of the toll that stress takes on our minds and bodies and there is a lot of great information on various techniques to control stress. Some of the things that we know help to manage stress include eating a well-balanced diet, exercising, connecting with loved ones, deep breathing and other mindfulness activities as well as getting a good night's sleep. If you are a one of the millions of people experiencing significant stress right now, every action item on this list is worth exploring to find what works for you…before stress takes its toll.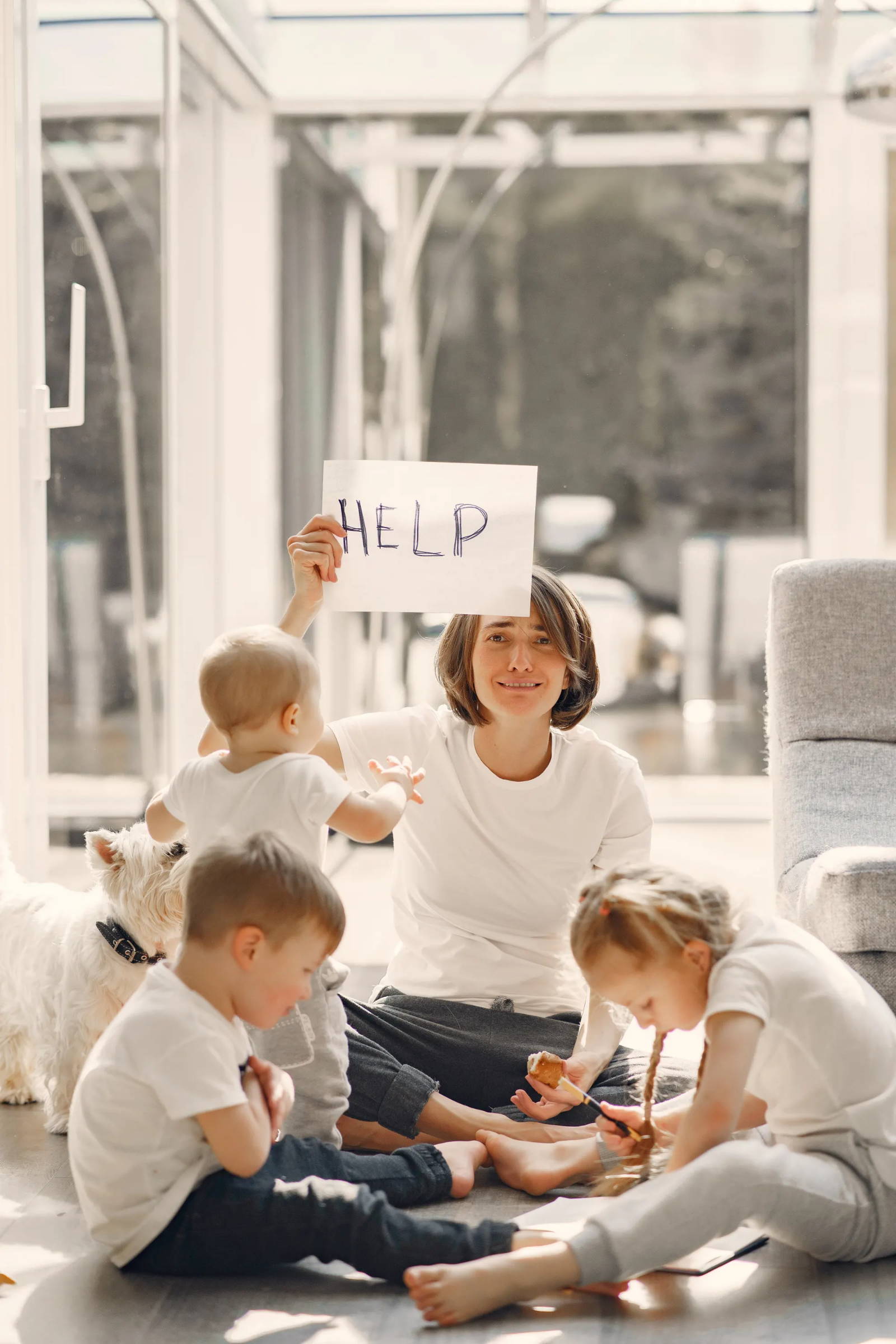 Ashwagandha: Nature's Best Remedy for Stress and Anxiety
Ashwagandha is an ancient herb that has been used for over 3,000 years in Ayurvedic medicine, one of the oldest forms of health care. It is considered an adaptogenic herb, which means that works to counteract the effects of stress in the body. Adaptogens are believed to enable your body to better cope with stress and are able to respond to the body's needs, meaning they are able to calm you if you are feeling stressed or energize you if you are feeling exhausted.
Ashwagandha is the most extensively studied and used adaptogenic herb and there have been multiple clinical trials conducted to test the claims around Ashwagandha. While many of the studies have been small, they show that ashwagandha is effective for helping the body combat chronic stress and relieve anxiety. Ashwagandha has also been shown to have the ability to address other health conditions.
Ashwagandha's Studies Show it Supports the Following:
Healthy Cortisol Levels

Reduction in Stress and Anxiety Levels

Improved Memory and Cognitive Function

Improved Sleep

Reduced Symptoms of Depression

Reduction in Inflammation

Healthy Immune System

Healthy Blood Sugar Levels

Improved Thyroid Function

Healthy Cholesterol Levels

Reduced Emotional/Stress Eating

Increased Muscle Mass and Stamina
Ashwagandha Helps Relieve Anxiety and Mood Disorders Due to Chronic Stress
Anxiety is defined as: a feeling of worry, nervousness, or unease, typically about an imminent event or something with an uncertain outcome. And while most people naturally experience a certain amount of anxiety, anyone who has experienced chronic anxiety knows that it makes enjoying life's usual activities very,very difficult. Successfully treating anxiety has proved challenging, as many of the prescribed medications have some unpleasant side effects.
Ashwagandha may provide a natural option for those who are looking for some relief from anxiety but who don't want any of the side effects of prescription drugs. A 12-week published study shows that ashwagandha was comparable to the commonly prescribed anxiety medication lorazepam. [i]  In a 60-day study of people dealing with chronic stress, the group taking a daily dose of ashwagandha reported a 69% reduction in anxiety and insomnia compared to 11% of the placebo group.[ii]  Another 6-week study of people with a anxiety disorder showed that 88% of those who took ashwagandha reported a reduction in anxiety.[iii]  While these studies are small, they provide hope to the millions of Americans suffering from anxiety who are looking to return to life's normal activities.
It is believed that ashwagandha stimulates the pathway in the brain for the neurotransmitter (GABA) responsible for promoting feelings of well-being and a calm, stable mood. Most recently, a 2020 study showed that an overall improvement was observed for the general well-being, sleep quality, and mental alertness of those in the study population who took ashwagandha compared to those who took the placebo.[iv]
Ashwagandha as a Nootropic
Is it possible to be calm and relaxed and yet maintain an alert, focused mind? The research seems to say it is possible. Ashwagandha might just be the answer for those looking to "take the edge off" while maintaining (or even increasing!) mental focus. Nootropic is a general term for any type of supplement that is thought to enhance cognitive abilities and ashwagandha falls into this category. A 2017 study published in the Journal of Dietary Supplements found that ashwagandha effectively enhanced both immediate and general memory. [v]  The herb was also able to improve attention, information processing speed and mental skills. Recent research shows that ashwagandha helps protect the brain from cell degeneration and the powerful antioxidants in ashwagandha destroy the free radicals that cause aging thereby healing the brain.
Ashwagandha For a Better Night's Sleep
According to a study by the American Psychological Association 43% of U.S. adults report that stress has caused them to lose sleep. And most of us don't need a study to know when we don't get enough sleep. When we aren't well rested things become even more stressful. Part of the stress/sleep connection is due to elevated cortisol levels keeping us stuck in the fight-or-flight mode. Cortisol levels follow a daily rhythm: they are naturally higher in the morning to help prepare the body for the day ahead and then naturally lower in the evening allowing the body to be restored through regular sleep. Elevated cortisol levels disrupt this natural rhythm, which impacts your sleep-wake cycle. When the body's natural cortisol levels are restored the natural rhythm is restored and it is easier to get a good night's sleep.
Ashwagandha has been shown to reduce cortisol levels thereby helping the body maintain its natural sleep-wake cycle. In fact, studies have shown ashwagandha can improve the quality of sleep and reduce insomnia, particularly with seniors, who are more likely to experience insomnia.
About Living Wonder Amazing Ashwagandha
1300mg of Organic Ashwagandha
Living Wonder's Amazing Ashwagandha blend contains 1300 mg of highly-concentrated organic ashwagandha. Not all ashwagandha is created equally. The benefits associated with ashwagandha come from the withanolides which are the active ingredients found in ashwagandha. While a other supplement labels might list the total mg of ashwagandha, most brands do not state the total level of withanolides, which is the compounds that make ashwagandha "work." We are proud to say that our product contains 2.5% withanolides, or 39 mg, making Amazing Ashwagandha one of the most potent formulas on the market.  
Living Wonder Calming Botanical Blend
Amazing Ashwagandha contains a blend of nature's stress and anxiety relieving all-stars including: Hawthorn Berry Powder, Lemon Balm Extract, Hops Extract, Chamomile Extract, Lemon Balm, and Passion Flower Powder. Each one of the ingredients in our Living Wonder Botanical Calming Blend was included to enhance calm, relaxed feelings and provide additional protection for the body during stressful periods. We've also included 10 mg of Black Pepper to aide in absorption. Amazing Ashwagandha provides all of these benefits without any of the unwanted side effects that often accompany prescription drugs.
Convenient, Easy-to-Take, 60 Day Supply
Our formula comes in an easy to swallow capsule that is taken once daily at a time that is convenient to you.  
[i]  Naturopathic Care for Anxiety: A Randomized Controlled Trial
[ii] A Prospective, Randomized Double-Blind, Placebo-Controlled Study of Safety and Efficacy of a High-Concentration Full-Spectrum Extract of Ashwagandha Root in Reducing Stress and Anxiety in Adults
[iii] A Double-Blind, Placebo-Controlled Evaluation of the Anxiolytic Efficacy of an Ethanolic Extract of Withania Somnifera
[iv] Efficacy and Tolerability of Ashwagandha Root Extract in the Elderly for Improvement of General Well-being and Sleep: A Prospective, Randomized, Double-blind, Placebo-controlled Study
[v] Efficacy and Safety of Ashwagandha (Withania Somnifera (L.) Dunal) Root Extract in Improving Memory and Cognitive Functions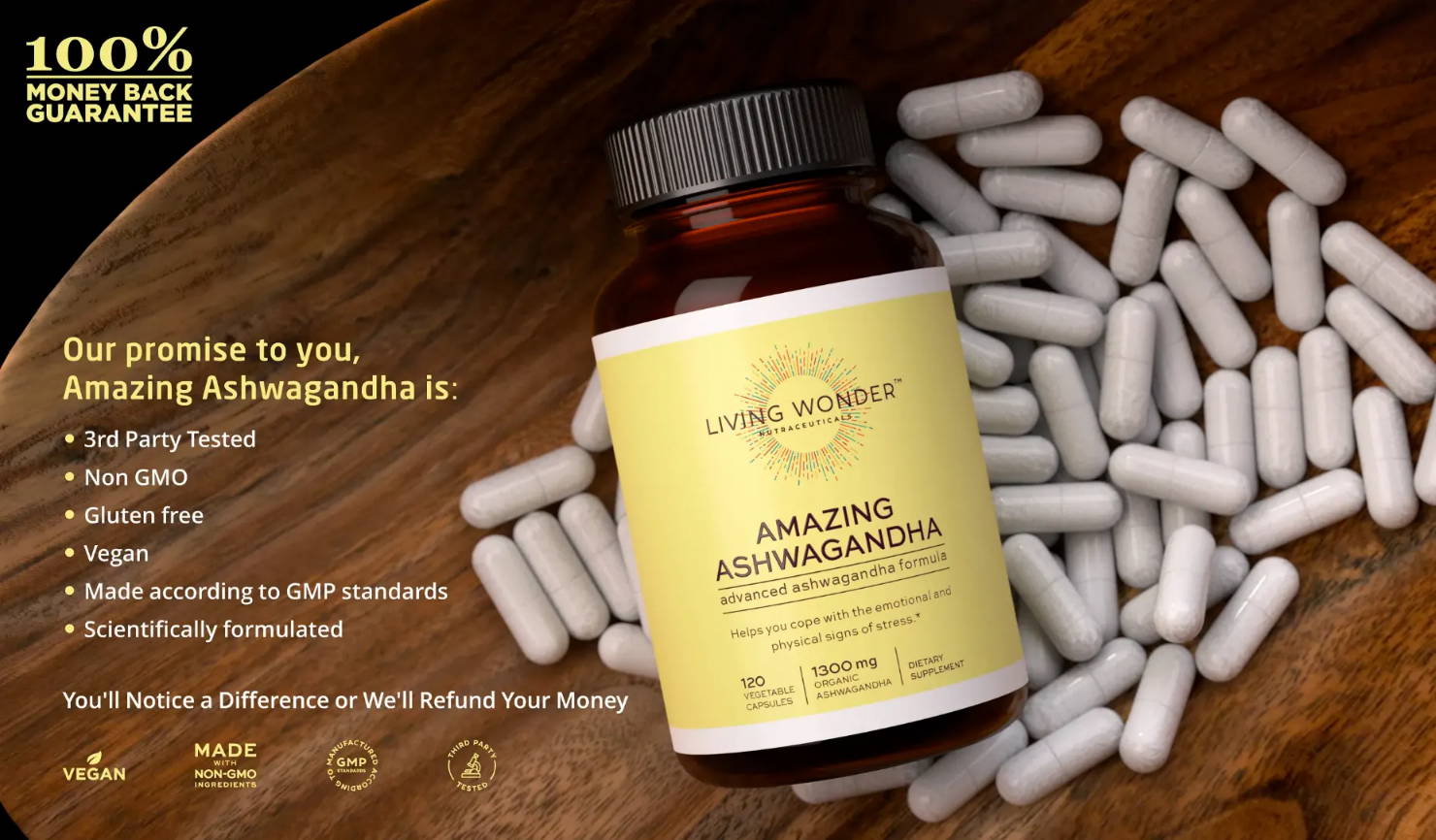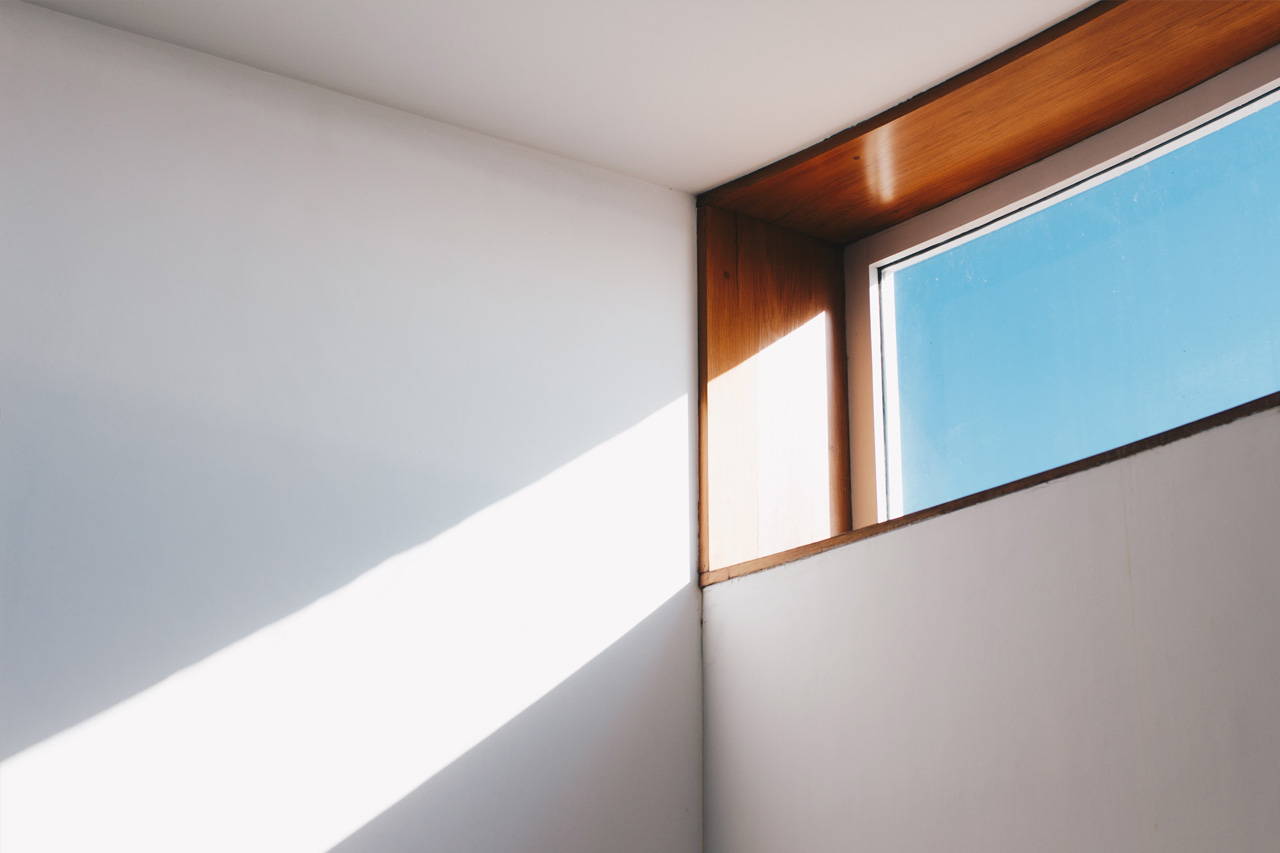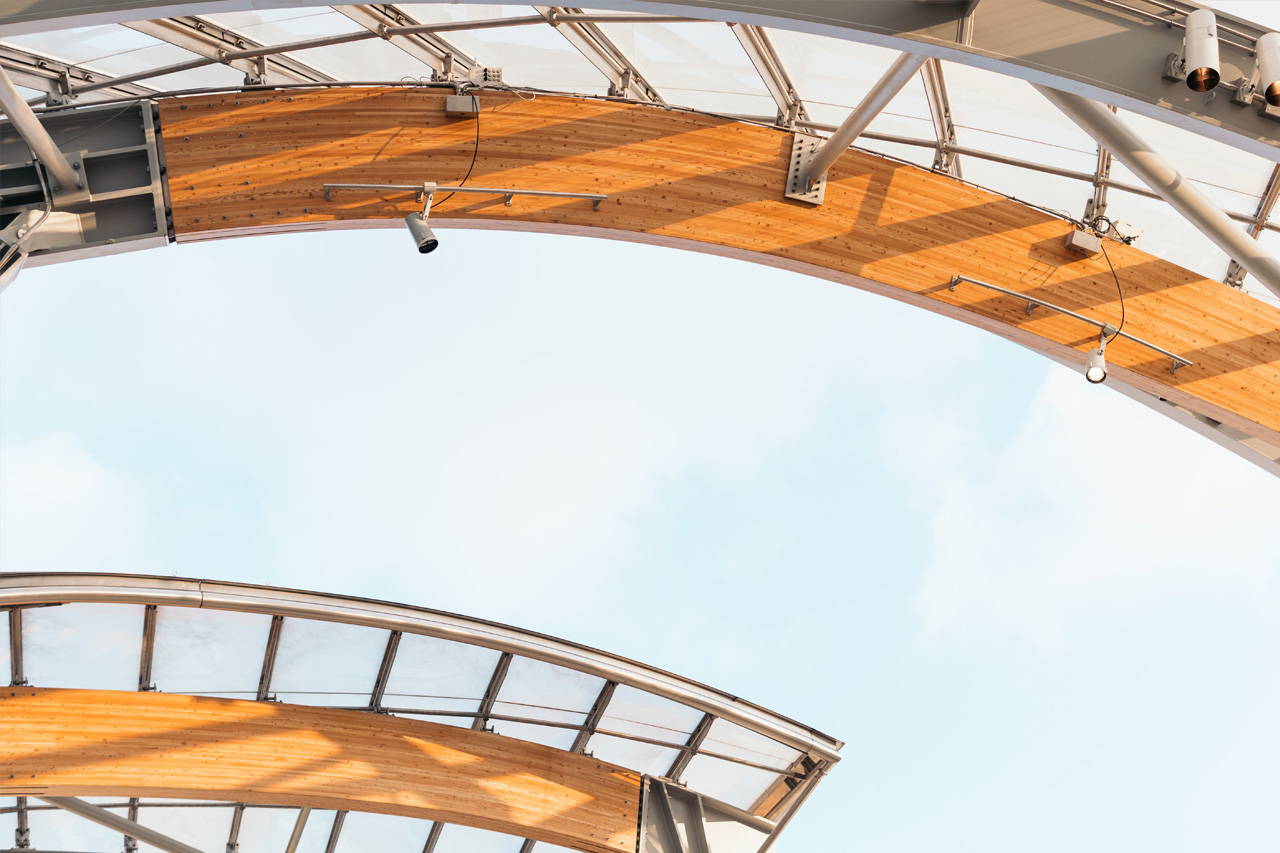 ★ ★ ★ ★ ★
"I originally bought the Living Wonder Ashwagandha to help take the edge off my anxiety and it works great for that. What I also found, once I started taking it is that it has started helping me to improve my overall mood and is helping me to rest better at night. I wasn't expecting that so I'm quite happy with this product. I've been taking for a few weeks now. definitely recommend it!"
- Tracy
★ ★ ★ ★ ★
"I have been taking Ashwagandha for a month now and have noticed a significant reduction in stress and anxiety. I have suffered from anxiety and panic disorder my whole life and get very frustrated with the side effects of antidepressant medication. I am very impressed with my results from this product."
- Melanie
★ ★ ★ ★ ★
"Helps with focus, clarity, and stress. I keep stocked up because I can tell this product makes a positive difference."
-Ben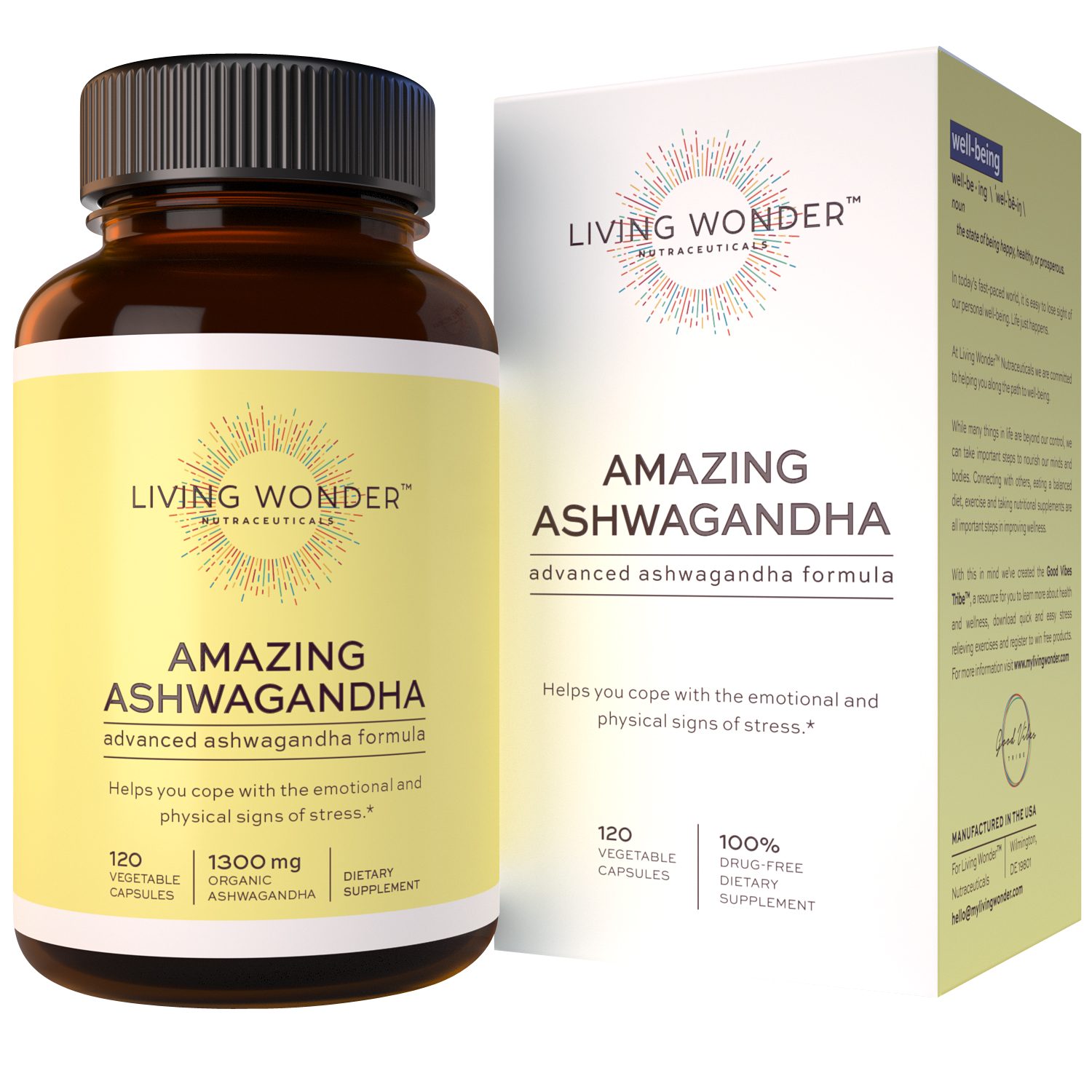 Amazing Ashwagandha, a scientifically formulated blend of nature's all-star stress and anxiety fighting remedies.
1300 mg of organic ashwagandha
Living Wonder Botanical Blend (including lemon balm extract, chamomile extract and passion flower powder) for extra calming support
Black pepper to increase absorption in the body.
100% Drug Free
Free Shipping over $35 ●  Free 60 days return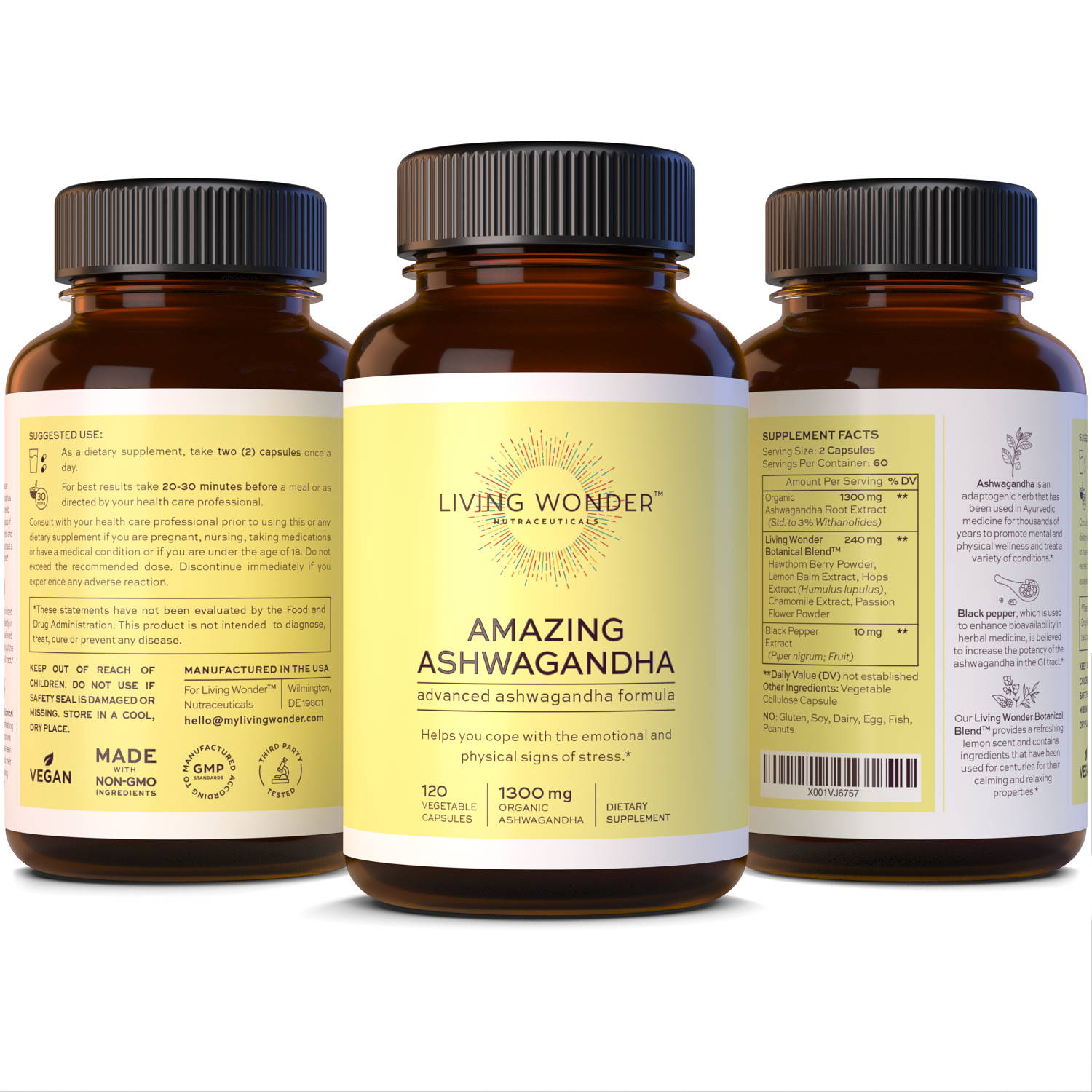 About Living Wonder Nutraceuticals
Living Wonder Nutraceuticals was founded by a former health care executive and mom who started looking for natural stress and anxiety remedies for her family. After her daughter experienced debilitating anxiety causing extreme stress for her and the entire family she knew there had to be a better way and started studying natural remedies for anxiety and stress. Amazing Ashwagandha, formulated by a team of scientists and holistic physicians, is manufactured in the United States according to GMP (Good Manufacturing Procedure) standards and then tested by an independent lab for safety and purity. We've gone to great lengths to develop and provide a product that we believe will benefit you and your family as it has ours. We proudly stand behind all of our products and provide a 60-day refund policy. We know that no two people are alike, and people may have different experiences with ashwagandha. But we'll keep it easy, if you don't absolutely love Amazing Ashwagandha, just let us know and we'll gladly refund your money!
This formula is for people who don't just want to survive stress, it is people who want to thrive during stressful times!